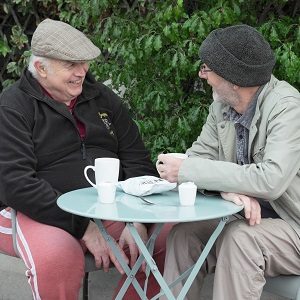 Age Concern Epsom & Ewell were awarded National Lottery funding in 2017 to set up a pilot scheme to form a new Men's Group for men over the age of 65 living in the Epsom & Ewell Borough.
Our Men's Group has grown significantly since 2017 and has gone from strength to strength ever since.
Our Men's Group Coordinator is always busy planning trips to museums, running shared interest activities and organising meals out at local pubs and restaurants.
The aim of the group is for members to get together with other like-minded men to organise and engage in the activities of their choice, helping to encourage a socially active lifestyle and improving overall wellbeing.
You'll be able to:
choose the activities you would like to do
share your knowledge, skills, interests and activities with others
enjoy the company of like-minded men
learn new things
What's on?
Please get in touch to let us know you will be joining us, we'll confirm the details and keep you updated of upcoming events
Worried about how you will travel to the group?
Don't worry, we can help with transport if needed
Have your say:
We are open to all suggestions for activities to include in the group and will assist members to incorporate these choices as far as we possibly can.
The aim is for members to run as much of the activity as they can independently. Skilled volunteers will be available to support the group, as needed, throughout the forming and running of the group. The emphasis will be on members making decisions on the direction their group takes and having fun on the way.
The Age Concern Epsom & Ewell Men's Group is an inclusive and friendly group and always welcomes new members.
How to contact us:
To find out more about our Men's Group please send an enquiry via our