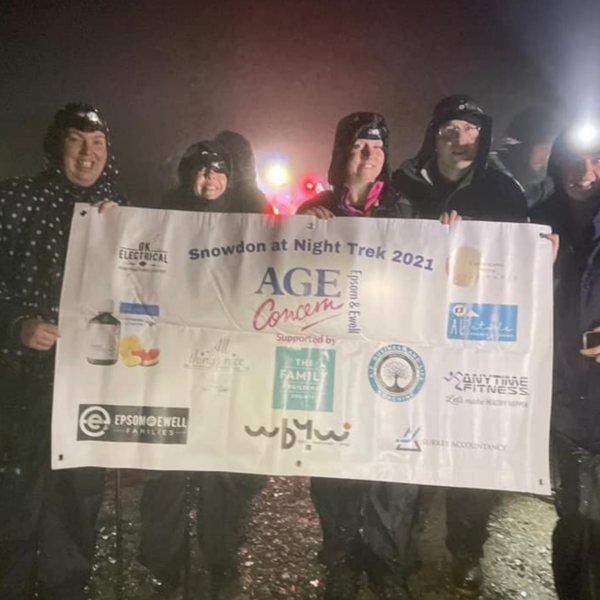 £3448 Raised by Snowdon Fundraisers!

On the 7th August 2021 – 8th August 2021 a team of Age Concern Epsom & Ewell fundraisers set off to explore the highest mountain in Wales and England by moonlight to raise vital funds for our charity!
Following the Llanberis track to the summit using headtorches to light their way, the team set off just before midnight. Whilst most of us were tucked up nice and warm in our beds, our team of fundraisers, donning their waterproofs, made their way up the Llanberis Path, the longest path on Mount Snowdon.
After reaching mutliple checkpoints at break-neck speed, the event organisers expressed how impressed they were with the entire challenge event group. With less than 40 minutes remaining until they were due to reach the summit, at around 2400ft, event organisers and the Llanberis Mountain Rescue Team made the heartbreaking, but sensible decision to call the event off. After hours of trekking, the team had to turn around and start heading back down the mountain, and within an instant, torrential rain and wind blasted them from every direction.

We are pleased to say that all of our fundraisers made it back down to ground level safely, but were soaked through and disappointed that mother nature prevented them from reaching the summit.
Age Concern Epsom & Ewell are very proud of our fundraisers for taking part in this challenge and know, without a doubt that, had the British weather not made conditions too dangerous to continue, they would have made it to the top.
We are delighted to announce that our amazing team of fundraisers raised a whopping £3448, which will help to make a difference within our local older community, here is Epsom & Ewell.

Thank you to our team of fundraising heroes James Ambrose, Alex Warsop, Rosie Hobbs, Carly Catling, Dawn Coller and Charlotte Hornblow
Age Concern Epsom & Ewell would also like to thank our local business supporters, who sponsored our Snowdon at Night Trek
The Family Building Society, Eastop-Scopes Virtual Assistants, Epsom & Ewell Families, All Things Nice, We Built Your Website, ALTetude French Tutoring, Anytime Fitness Epsom, Health Choice Zinzino, A-Z Business Coaching, GK Electrical Solutions and Surrey Accountancy